Marshlands Annexe
Kingston Road
Tel: 07891926155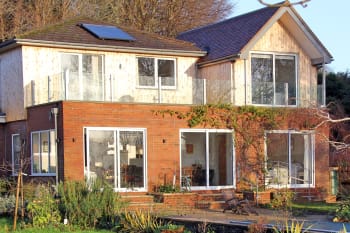 Marshlands is a brand new self-contained annexe over two floors. The ground floor bedroom is spacious with a superking-size bed /twin bed and wetroom and private entrance. The first floor lounge with fully equipped kitchen overlooks the beautiful South Downs. Private parking.
Availability
There are no rooms available at Marshlands Annexe
for these dates.
Please try other dates or select a
different property
.
units
Max:
Private facilities
Marshlands is a brand new self-contained annexe over two floors. The ground f... more >
Marshlands is a brand new self-contained annexe over two floors. The ground floor bedroom is spacious with a superking-size bed /twin bed and wetroom and private entrance. The first floor lounge with fully equipped kitchen overlooks the beautiful South Downs. Private parking.Room Facilities:
Broadband/High Speed Internet Access
Cooker
Digital Television Channels
Dining Area
Dishwasher
Ensuite Bath/Shower Room In Unit
Extra Linen On Request
Fridge
Hair Dryer In Room
Ironing Facilities
Kitchen
Linen & Towels Supplied
Patio
Rainfall Shower
Washing Machine
WI-FI Internet Access
Facilities
Free parking
Lounge
KItchen
Twin or superking-size bed
Wet room
Free wifi
Washing/drying machine
Underfloor heating
Iron and ironing board
Fridge
Garden For Residents' Use
Internet Access
Luggage Storage
Policies
Check In: Between 14:00 and 21:00
Check Out: Between 7:30 and 10:00
Wi-fi: Wireless internet is available and is free of charge.
Smoking: There is no smoking permitted anywhere within the property.
Parking: Parking for all guests is available on site and is free of charge.


Children: All guests must be 18 or over, no children are allowed.
Pets: Pets are not allowed.
Groups: No stag and hen groups.
Average
4.9
out of 5
30 reviews
100% recommend
Reviews
22nd August 2023:

We loved our stay at Marshlands. The views, the extremely comfortable bed, the excellent range of breakfast goodies made us feel at home and very welcome. Everything was clean and the annex is well equipped. Thank you and we hope to stay with you again.
Tips:
We stayed here for a wedding so didn't get to explore too much. It's a short walk to Lewes where you can find pubs shops, restaurants etc
Would Recommend: Yes
21st June 2022:

I don't do reviews. That said we liked marshlands very much and hope to stay here again when we visit Glyndebourne next year.
Would Recommend: Yes
18th June 2022:

Marshlands is just perfect: it is immensely relaxing and a wonderful place in which to unwind.
Tips:
The Anne of Cleves house is well worth a visit and provides an illuminating insight into domestic Tudor history.
Would Recommend: Yes
6th June 2022:

Thanks for being flexible on check-in/check-out times - that was really useful. Great place, lots of space and light. Really comfortable bed and has everything you need to cook too. Really generous breakfast too - it was way more than we expected - a great surprise. Lovely hosts and would love to stay again when we have more time to go walking!
Would Recommend: Yes
29th April 2022:

Wonderful annexe and very friendly owners. Can't fault the reception we got.
Tips:
If travelling from the Kingston direction, the entrance is bit difficult to find, especially at night.
Would Recommend: Yes
31st March 2022:

Would Recommend: Yes
27th March 2022:

We had a warm welcome from Ginny & Henry who were on hand if needed and we had our own front door and otherwise left to do our own thing.
Tips:
The Swan pub was just a 10 min walk into Lewis and we would recommend it as food was very good. It's only a 20 min walk to the train station and convenient for trips to Eastbourne & Brighton.
Would Recommend: Yes
22nd March 2022:

Ginny and Henry nothing was too much trouble to make our stay enjoyable.
Tips:
Lovely walk into Lewes by the Priory across the fields.
Would Recommend: Yes
21st February 2022:

Perfect hosts. Very friendly (whilst still respecting our privacy) helpful, excellent communicators.
Would Recommend: Yes
16th February 2022:

The apartment was lovely. Very bright, airy and modern. The kitchen was very well equipped & the breakfast hamper far exceeded our expectations. Would definitely stay again & have recommended to our relatives. The hosts very kindly said we didn't need to check out as early. Thanks for everything.
Would Recommend: Yes
14th February 2022:

This is a perfect little apartment for two people - clean, warm & comfortable (the bed is super comfy!). It was well equipped with everything we needed including lots of items that you don't always get in similar rentals such as dishwasher tablets, washing powder & high quality toiletries. The generous breakfast provisions exceeded our expectations in both abundance and quality. Ginny & Henry are lovely hosts, friendly & helpful with recommendations for places to eat/visit, without being intrusive. The apartment has lovely views and there are great walks directly from the house, while the centre of Lewes is just a short walk away. Would definitely recommend this apartment for anyone wanting a relaxing 'home from home' in this location.
Would Recommend: Yes
22nd October 2021:

Henry was very helpful. They did not intrude on us in anyway which was nice. The home produced honey and jam were excellent and food or breakfast very good. An enjoyable stay. Having the living room upstairs gave lovely views across the fields.
Tips:
We went to Brighton to see the pavilion and it was beautiful and met expectations. The lanes were a good place to visit, we had never seen so many jewellery shops. Lewis castle was also very interesting with good views from the top.
Would Recommend: Yes
19th October 2021:

Brilliant stay, thank you. Facilities, breakfast, cleanliness and host were just lovely. Would have given location 5 stars if it was a little bit closer to the centre of Lewes. Not a problem for us, as we drive. But might be a problem for those without a car (I think the walk is about 30 minutes, might be wrong)?
Tips:
Great location for an abundance of walks. Lewes has many restaurants and antic shops that we really enjoyed also.
Would Recommend: Yes
26th September 2021:

Henry was very welcoming and extremely helpful when we had a problem with the car
Would Recommend: Yes
2nd August 2021:

Another very enjoyable stay at Marshlands. Wonderful hosts who cater for our every need and provide excellent, spotlessly clean and comfortable accommodation.
Would Recommend: Yes
15th July 2021:

Would Recommend: Yes
30th June 2021:

Loved this place! It was spacious, well designed and had all the mod cons you require for a self catering stay. The bed was so comfortable, it was difficult to leave it. The shower, I could have stayed under it all day. The view from the living space was fantastic and we never tired of the view. Good location for a number of good walks and to the Downs. Getting to the centre of Lewes was fairly easy, country or road walk. Ginny and Henry were fantastic hosts and very helpful. The whole experience was incredibly relaxing and the breakfast hamper contained good quality products, especially the home made honey. We will definitely return when we are next visit Lewes.
Tips:
Ginny and Henry do provide a list of good places to go as part of the welcome pack. We did visit the Swann Inn, which does really good food and the staff are great! So good, we went twice. Recommend another pub, the Kings Head on Priory Road, which has a nice beer garden. To eat Cote de Brassiere, Pelham Arms, Bills, and Lewes Depot! Looking for a sandwich, has to be The Castle Sandwich bar just along from the castle entrance, opp the Brewery pub.
Would Recommend: Yes
25th May 2021:

Could not have been better hosts
Would Recommend: Yes
17th May 2021:

Lovely views of fields and distant hills from living room, plenty of light in bedroom and living room, comfortable and good quality furnishings.
Tips:
We enjoyed a swim (in our wetsuits) at Pells pool, a 50m outdoor unheated swimming pool in Lewes.
Would Recommend: Yes
8th May 2021:

It really is the perfect holiday home for walking in the south downs and we always feel so relaxed there. The views are incredible from the lounge and the bed is so comfortable after a long day walking. The breakfast hamper is a lovely touch and Ginny and Henry made us feel so welcome. We will be back next year!
Tips:
There are lovely walks in the surrounding fields if you want something more tranquil than long hikes on the downs! If you climb the downs from nearby Kingston the views are spectacular. Once you're up there there are lovely walks to Rodmell, Southease and Plumpton... and if a long hike is your thing you can trek to Eastbourne or Seaford and return by train! Erawan Thai in town centre is a must visit!
Would Recommend: Yes
3rd May 2021:

Such a beautiful little place, it's spacious, clean, the view upstairs is unbeatable. Ginny also very kindly provides breakfast, including homemade honey and marmalade. It's a great and quiet stay.
Tips:
There's a walking path opposite the house that takes you to Lewes in about 20mn.
Would Recommend: Yes
1st May 2021:

A lovely apartment, set about a mile outside Lewes, facing open fields with fine views towards the sea especially from the upstairs living space. Beautifully prepared and presented by Ginny and Henry, who welcomed us warmly and provided generous quantities of delicious breakfast food (including meeting my dietary requirements). Slight traffic noise from the road during peak hours, but not intrusive.
Tips:
Walk from the front door up onto the Downs and enjoy the peace and solitude for as far/long as you like. Walk the other way into Lewes, marvel at the Priory Ruins, and stroll up into town for coffee or food.
Would Recommend: Yes
26th April 2021:

lovely space, great views. hosts kind and welcoming . would recommend highly.
Tips:
fabulous waking, pottering in Lewes, pretty parks, oodles of great places to eat
Would Recommend: Yes
24th April 2021:

The nicest, most welcoming hosts that you can imagine. the apartment is well equipped, comfortable and in a good location.
Tips:
Walking on the South Downs, lots of bars and restaurants.
Would Recommend: Yes
19th April 2021:

Absolutely the very best we have stayed in. No complaints at all...in fact the opposite. I want to heap praise on this couple for their outstanding care and attention to detail. We totally loved our stay. There is nothing we can think of that would have made it better. Thank you so much. Your property and you both are a real tonic. Monica and David Troughton Stratford upon Avon
Tips:
Walk seaford to Cuckmere. Lewes town. Charleston
Would Recommend: Yes
5th November 2020:

Ginny and Henry are great hosts. Their attention to detail is excellent and they have worked hard to secure a covid safe environment. The accommodation is very comfortable and warm, the breakfast provided is very generous. We have stayed with them twice now and look forward to another stay in the spring.
Tips:
We enjoyed drinks and meals at The Swan pub in Lewes, their covered 'outdoor' space is great.Great walking in and around Lewes with easy access onto the Downs.
Would Recommend: Yes
28th October 2020:

Nothing at all to fault about this lovely holiday home. Comfortable and homely in a perfect location for Lewes and South Downs walks. Beautiful views over the downs from the lounge. Amazing breakfast hamper. Welcoming and helpful hosts. Look forward to staying again soon.
Would Recommend: Yes
30th September 2020:

A lovely apartment . Very comfortable and welcoming. Excellent breakfast.
Tips:
Ideally placed for the beautiful south downs, the lovely town of Lewes and Brighton is only 10 minutes on the train.
Would Recommend: Yes
20th September 2020:

Good contact, checking everything was to our liking.
Would Recommend: Yes
27th February 2019:

Very nice, modern light appartement. Breakfast in fridge was oké. Lots of traffic noise during the day. Nights quiet.
Tips:
Two nice pubs nearby.
Would Recommend: Yes
.