No 11 accommodation
11 Mount Harry Road
Tel: 07973142245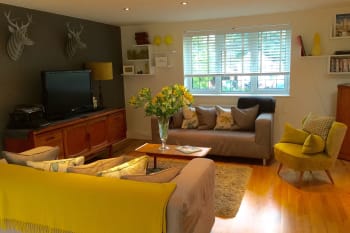 No11 is a self-contained annexe over two floors, with its own entrance. Two singles or One kingsized bed with its own en suite. Large sitting room/kitchen area fully equipped for a relaxing stay.
Availability
There are no rooms available at No 11 accommodation
for these dates.
Please try other dates or select a
different property
.
rooms

Max:
En suite
Policies
Check In: Between 16:00 and 19:00
Check Out: Between 7:00 and 10:00
Wi-fi: Wireless internet is available and is free of charge.
Smoking: There is no smoking permitted anywhere within the property.
Parking: Parking for all guests is available on site and is free of charge.


Children: Children of all ages are welcome.
Pets: Pets are not allowed.
Groups: No stag and hen groups.
Average
4.8
out of 5
59 reviews
100% recommend
Reviews
1st August 2023:

Accommodation had spacious living area and was spotlessly clean. Located in a quiet, residential area. The accommodation was private and of a very high standard of decor.
Tips:
In Lewes there is the Needlemakers for lunch, the Pelham Arms for dinner, Symposium Wine Emporium for drinks. Farleys House and Gallery is a great nearby attraction. Glyndebourne is 10 minutes away by taxi. The train to Brighton is fast and regular also.
Would Recommend: Yes
27th June 2023:

Very high standard
Tips:
Good restaurant ....Cote
Would Recommend: Yes
3rd April 2023:

Ideal for Lewes and surrounding area Lovely and clean
Would Recommend: Yes
3rd April 2023:

Very attractive and well-equipped Apartment in a pleasant quiet location in walking distance of Town. General Store just down the road and easy parking. High standard of furnishing, kitchen equipment and supplies, and media channels, etc. Highly recommended in all respects.
Tips:
We stayed here whilst visiting Brighton, where accommodation is more expensive, parking impossible and prices higher for this standard of accommodation. It is only 7 miles from Brighton and very easy drive, and there are Bus Services.
Would Recommend: Yes
17th August 2022:

Easy, no hassle , perfect for our needs. NB have put a 3/5 for service /staff because I don't think its a relevant question .....and it wouldn't let me ignore the Q
Tips:
Walkable to town 20 mins
Would Recommend: Yes
23rd March 2022:

Far superior to bed and breakfast. Friendly helpful owner. Lovely to have privacy and independence.
Tips:
Lots of antique / vintage shops in town. We did not have time to see round all of them.
Would Recommend: Yes
26th January 2022:

Would Recommend: Yes
14th December 2021:

Lovely space for two people to stay. Well appointed, very comfortable and spotlessly clean. The owners leave a few essentials like milk, tea and coffee for guests which was appreciated. We would thoroughly recommend this apartment to anyone wanting to spend some time in Lewes.
Would Recommend: Yes
12th December 2021:

Perfect for us. Exactly as advertised, plus very well equipped kitchen area and lovely décor touches. Very comfortable. Responsive owner. Lovely walks right on the doorstep. We would have no hesitation in recommending No 11 or indeed returning ourselves.
Tips:
The walks are fabulous (bring walking boots/shoes). The downs are literally up the road and the views are spectacular. Lewes is a lovely town to explore. As we were celebrating, we went to Hove for a couple of meals at The Little Fish Market and Etch, both of which were tip top.
Would Recommend: Yes
23rd November 2021:

Modern, bright & airy apartment. Clean & well equipped with excellent quality bedding & toiletries. The makings of a hot drink plus cereal, milk & orange juice for breakfast were provided. Parking
Tips:
Lewes is an ancient town with an Interesting history. The views from the castle are wonderful. independent shops. A variety of pubs & restaurants, we ate at Cote which was very good. The Depot is a great venue for art house & regular films with an excellent cafe/restaurant. The train has a regular service to many coastal resorts which are within easy travelling distance.
Would Recommend: Yes
16th November 2021:

The bed was lovely - really comfortable. Very impressed with the Bowie "Heroes" session prints too! Also the location was such a surprise - close to the centre but in such a lovely quiet residential area. Very well stocked kitchenette, good quality towels, bed linen, etc. Basically, it was lovely and just right for a short stay.
Would Recommend: Yes
3rd October 2021:

Would Recommend: Yes
23rd September 2021:

The accommodation was excellent and met our needs. The owner was very helpful (small leak in the shower ...) and not intrusive at all. Facilities are really well thought out and the place was very comfortable.
Tips:
A car is probably necessary as the town centre is a good walk (with a slope!)
Would Recommend: Yes
15th September 2021:

Excellent accommodation, well appointed, great position. The accommodation was spotless and provided a great location for our stay in Lewes. The little details, such as milk in the fridge for arrival was much appreciated, especially after a long journey.
Tips:
Lewes Castle worth a visit. Cote a nice place to eat.
Would Recommend: Yes
4th September 2021:

Very clean, great location, lovely furnishings and extremely comfortable bed in a quiet and peaceful area.
Tips:
Birling Gap beach, Lewes Castle and town centre, Depot cinema.
Would Recommend: Yes
20th August 2021:

Scrupulously clean, very comfortable, quiet location, 10-15 mins walk from central Lewes; well-equipped kitchen area. Relaxing sitting area. Tastefully minimalist décor. Upstair sleeping area well provided with linen, cushions, etc. Small bathroom (shower & basin); mind your head! A thoughtful touch was provision of on-arrival milk etc., so look in fridge at once. Off-street parking, which is rare in Lewes, for 1 car; plenty of free space on road too. Overall, first rate. Charming owner very helpful. Quiet garden to rear.
Would Recommend: Yes
6th August 2021:

Everything we needed was there. Beautiful decor and welcoming space
Would Recommend: Yes
11th July 2021:

Exceptionally clean, modern, secure, welcoming and homely accommodation. It is rare but nice to see a tastefully decorated and furnished flat such as number 11. The open plan kitchenette/ leaving room has all necessary utensils and appliances for self-catering. Very comfortable kings size bed with a high quality linen provides for a great night sleep. A lovely, secluded and well maintained garden at the back of the house adds to the tranquility of the stay. An adjacent car parking space just in front of the accommodation is a real bonus, as is the nearby convenience store (all food etc essentials). Convenient location as just 15 minutes walk from town centre although there are multiple small car parks for those willing to drive.
Tips:
Great experience for antique lovers as multiple antique shops, centres and auctions available at Lewes and surroundings. Worth visiting the local castle, offering breathtaking views over Lewes from the two towers. Best local fish/chips meal is offered at the Harvey's tavern, however there are plenty of cafes and restaurants to enjoy a meal out. For self catering- food/groceries available from Waitrose, Tesco and Lidl. The accommodation's location is great for day trips to Brighton and for exploring all nearby towns. There are also great bus/train services and transport links from Lewes to all surrounding towns if you're not a car owner. The accommodation at N11 offers a perfect short breaks getaway and an excellent family experience.
Would Recommend: Yes
3rd July 2021:

Would Recommend: Yes
22nd April 2021:

Very nice place to stay.Clean and well presented accommodation.Would recommend to anybody visiting Lewes for a short break.
Would Recommend: Yes
31st October 2020:

Lovely modern and spacious split level apartment in close proximity to the Downs. Would recommend for a short stay.
Would Recommend: Yes
13th October 2020:

Would Recommend: Yes
24th September 2020:

Comfortable apartment, nicely styled, comfy bed and good shower. The apartment is a seperate annex to the main house but is private and quiet. The lack of an oven might be a problem for a longer stay but there is a microwave and a hob and plenty of nice restaurants in town.
Tips:
We only stayed for two nights but there are so many nice restaurants in Lewes. Lewes is about 25 minutes walk from the apartment.
Would Recommend: Yes
16th August 2020:

Tips:
So much to see in and around Lewes. Perfect for walking the South Downs Way or visiting the plethora of National Trust properties and gardens.
Would Recommend: Yes
4th December 2019:

Friendly, informative and easy to get in contact with.
Tips:
Plumpton race course is worth a visit as is obviously Brighton. Be warned though extremely expensive to,park. The black horse in Lewes is very friendly and has 2 real fires
Would Recommend: Yes
28th October 2019:

Really welcoming and an excellent host. We had everything we needed and more.
Tips:
Pelham Arms Pub for sunday roast Castle Chinese - delicious Flea Market and Antique shops are a must Depot Cinema is really good Bill's - the first one, got to be done :)
Would Recommend: Yes
30th September 2019:

Lovely property, very helpful owner. Can highly recomend.
Would Recommend: Yes
14th September 2019:

Would Recommend: Yes
20th May 2019:

Lovely little apartment and great decoration. So cosy and well fitted with all the necessary items. Great service and really thoughtful host.
Tips:
Great location for Lewes and surrounding area and perfect for walking over the Downs. Really lovely and peacful too.
Would Recommend: Yes
25th March 2019:

Debra was a good host - there to greet us and show us facilities. Basic kitchen amenities were fine and we appreciate some provisions like milk and juice.
Tips:
We are in the Swan Inn and it was very good and visited the castle which was interesting. Very pleasant town to wander around.
Would Recommend: Yes
5th February 2019:

This place has all the little things that you would need over the weekend to do self catering for a couple or small family
Tips:
There are some lovely walks locally and loads of restaurants in town which is a short distance to walk.
Would Recommend: Yes
7th November 2018:

Very clean and warm. The bed was very comfortable
Would Recommend: Yes
1st October 2018:

Would Recommend: Yes
21st September 2018:

Comfortable rooms including bed, very good tv. Sloping ceilings were a nuisance, several banged heads and bathroom awkward; cooking rings a bit slow. Nice host. Very good location. Quiet, relaxing, restful.
Tips:
If able to walk happily, Lewes is great to explore,, and the Downs are very near.
Would Recommend: Yes
15th September 2018:

Welcoming and comfortable apartment with easy access to Lewes. Everything lovingly co-ordinated and all needs supplied.
Tips:
we were visiting relatives for a party who live close by, but have visited Lewes many times and found it an interesting town with high quality restaurants and many quirky traditions. Lewes is in the forefront of of contemporary thinking.
Would Recommend: Yes
31st August 2018:

This was the perfect place to stay for a visit to Lewes, and, for us, to the Glyndeborne Festival. It is on a quiet street, but near to everything that is needed.
Would Recommend: Yes
18th August 2018:

Debra is a lovely lady and nothing is too much trouble. No 11 is approx. 15/20 mins walk into Lewes. This was our second stay at No 11 so I think that says it all.
Tips:
There are some good restaurants in Lewes but as we had explored Lewes before we used No 11 as a base to go further afield. There are many historic houses/National Trust properties around and Cherleston House and Batemans(home of Rudyard Kipling)in Burwash are a must. On the way back from Burwash stop at the Blackboys Inn. We had a fabulous sunday lunch there. Enjoy your stay!
Would Recommend: Yes
9th August 2018:

A really comfortable "home" for a couple of nights for us. Debra is a lovely host and so friendly and helpful. Breakfast and tea and coffee ingredients are a bonus. Really quiet and cool spot away from the hot, hustle bustle and traffic in Lewes.
Tips:
The castle, the streets and independent shops. Waitrose! Save the car and parking - jump on a train to Brighton just 15mins away.
Would Recommend: Yes
19th July 2018:

Good location and very comfortable accommodation.
Would Recommend: Yes
9th July 2018:

This was a lovely, clean self-catering flat in a quiet area. Quite a way out so be prepared to walk (25 mins) or taxi into town if you want to eat out. Debra, the owner, was welcoming, friendly and hepful.
Tips:
We enjoyed snowdrop inn, black lion and swan - all pubs serving reasonably priced good food.
Would Recommend: Yes
9th July 2018:

Everything was good our only comment is that the breakfast arrangement is not clear we didn't realise it was self catering
Would Recommend: Yes
5th July 2018:

The apartment is beautifully decorated and is extremely comfortable. The only tiny downsides are head height in the bathroom where my 6'2" frame was slightly less than ideal, and a tiny bit more privacy surrounding the entrance in the back garden of the man house wouldn't be a bad thing.
Tips:
Very convenient for Lewes, Love Supreme (in my case) and Glyndebourne...
Would Recommend: Yes
28th April 2018:

Lovely accommodation; has everything you need. Blackout blinds on the bedroom window would be much appreciated
Would Recommend: Yes
30th March 2018:

Wonderfully comfortable bed and nice big towels. Good to be able to come and go as we pleased and cater for ourselves.
Tips:
This isn't really a B&B - more a minimal self catering with minimal breakfast provisions. Some way out of the town. The heating is controlled by the thermostat in the main house which is clearly much warmer than the annexe!!
Would Recommend: Yes
12th October 2017:

We had an excellent two nights at No 11 with a very warm and friendly welcome from Debra. Very comfortable and extremely well appointed self catering accommodation. I can highly recommend this establishment.
Tips:
Two small reservations - property is a mile uphill from town centre and storey height in the bedroom and bathroom is restricted in parts. But these wouldn't put us off staying again because the pros considerably outweigh the cons. Good pubs serving good beer and food widely available in Lewis. Great town for a weekend break and loads of good walking too
Would Recommend: Yes
13th August 2017:

Excellent accommodation and friendly welcome. The height of the bathroom is a bit of a challenge, even for these 5' women - but everything else is so wonderful that it is a smallish price to pay.
Would Recommend: Yes
9th August 2017:

Perfect location in the nicest neighbourhood. Owner is lovely and very helpful.
Would Recommend: Yes
13th May 2017:

Would Recommend: Yes
7th May 2017:

Lovely bright apartment, with everything we wanted, comfortable beds and a welcoming and helpful host.
Tips:
The South Downs are lovely, and we visited Charleston house, the home of the Bloomsbury group, and it is sensational. In Lewes we ate at Bill's and the Flint Owl Bakery - both recommended.
Would Recommend: Yes
27th March 2017:

Would Recommend: Yes
20th September 2016:

Would Recommend: Yes
18th September 2016:

Very comfortable, clean and stylish with parking. Very quiet with comfy beds. Lots of useful info from the owner Debra re parking, public transport etc. The ceiling heights were a bit challenging until u got used to them and there could have been perhaps a bit more choice for breakfast, but overall a good place to stay to explore the area.
Tips:
Had a good meal at the Pelham Arms and its not too far to walk in the evening. Lewes castle was very interesting and Seaford a good place for the beach. Good walking from the NT centre at the Birling Gap along the coast
Would Recommend: Yes
29th August 2016:

This was our third visit, this time for 4 nights to visit the opera. Comfortable, clean, restful, with smart sofas, stylish decor. Plenty of space to relax. Everything provided for a pleasant continental breakfast for the first morning or so - plus fresh coffee/teas/milk etc. We enjoy the freedom.
Tips:
Easy parking right outside. A 10 minute walk into the centre of Lewes.
Would Recommend: Yes
29th August 2016:

Would Recommend: Yes
29th August 2016:

Would Recommend: Yes
19th August 2016:

Fantastic space which feels totally private and warm friendly hosting
Would Recommend: Yes
8th August 2016:

Would Recommend: Yes
27th June 2016:

We had a lovely stay at No. 11. Debra was lovely and very helpful; we did not check in until after 10:15, and she was still up, cheerful, and ready to help us out. She also let us keep our luggage at No. 11 after checking out the next morning, which was quite helpful. The apartment is beautiful and beautifully kept. Our only trouble was the short ceilings in the bathroom--my 6'3'' friend could barely fit into the bathroom. The breakfast the next morning was also quite nice; it was great to have fresh eggs.
Tips:
A bit farther than I would have liked from the Glyndebourne Opera. Easy walk into town. There are also lovely walks in the fields near No. 11.
Would Recommend: Yes
1st June 2016:

The accommodation was decorated to a high standard with good taste.Towels and bedding were of good quality which was very nice. Debra was very helpful and friendly without being intrusive.
Tips:
La Famiglia in Market Street : A modest Italian home cooking, Knocks spots off Ask in the High Street.Try the Rusticana- DELICIOUS Limetree in Station Street. More upmarket but friendly and good
Would Recommend: Yes
.